Generating Ideas
Several years ago I purchased Barbara Olson's book Journey of an Art Quilter. At the time I planned it to be a guide as I did more in combining art and quilting. It got put in the back of my book shelf as many other activities of the time took precedence. No, I am reading through it page by page and drooling over the life and vibrancy that she has incorporated into her quilts.  LindaKay Pardee has collected lots of images of Barbara Olson quilts and made them available on Pinterest.
 Barbara has written in her book: Using your brain is the slowest way to create. Using your intuition and feelings is the quickest way to create unique images. These sentiments are reinforced by what neuroscience has to tell us about how the brain 'creates'. Barbara promotes meditation  (sitting quietly and slowing down the input to the brain) as a technique for preparing to create.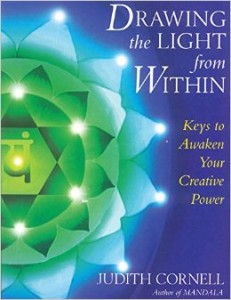 Dr Judith Cornell, promotes Drawing on the Light From Within—imagery of light flowing through the body. This imagery inspires me to try to depict what gives life to design ideas. What is this light within that generates life—a creative life? Judith also has written several books on Mandalas—sacred circles. These objects are found in many different forms in most religious traditions—stained glass windows, tiled floors, Native American dream catchers to list a few.  A whole series of quilts based on mandala themes have been collected together into the Pinerest site Mandala quilting inspirations.
Kaleidoscopic Colouring
The traditional patchwork design — 'dahlia' could be the beginning of a Mandala. Also the 'mariner's compass. Judy Niemeyer is renowned for her use of the basic mariner's compass pattern; and Paula Nadelstern has created glorious visions using the kaleidoscopic technique. All of these I have tried in previous quilts. At one time I spent quite a bit of time working with Paula's ideas.
Reviewing these images, I decided to try out the recommendations from How to grow a mandala. Prema Akasha has created a YouTube video to guide users through the initial method of drawing a mandala. Barbara Olson created her first one turning and connecting four uninspiring blocks.
A Representational Schema
I have engaged with Barbara Olsen's exercises. Also, while attending the HQ Academy in the Blue Mountains, I have been reminded of the basic elements that are life and light—earth, water, fire, and air. The western philosopher, Aristotle, and eastern thought also add the heavens (aether, what lies beyond) as a fifth element. With space travel, and the exploration of the heavens I accept that there are five important elements of life and light. Depiction of these cycles are my challenge. I will think of the fifth element as the 'life' that is manifest by the other elements.The image below suggests symbols which could be used in the quilting pattern of the finished object. I am thinking that it should be circular, and could be a table top. It might even be appropriate for Phyllis to put on Grandma's table.
The Chinese see these elements as interactive and ever changing and moving. They impact on each other in the cycle of life. Chinese philosophy suggests a cycle with metal and wood, air seems to not be included.
Generating
Wood feeds fire;
Fire creates earth (ash);
Earth bears metal;
Metal collects water;
Water nourishes wood.
Overcoming
Wood parts earth;
Earth absorbs water;
Water quenches fire;
Fire melts metal;
Metal chops wood.