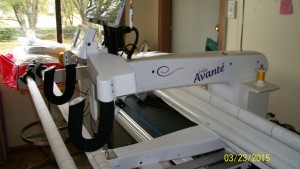 Actually, designing with the longarm quilting machine—my HandiQuilter Avante— is still some way off. At the moment it is new to me and I am experimenting with the designs that come with the machine. I am learning the mechanics, and the idiosyncrasies of the machine. I have the machine located on wooden floors. Despite careful leveling when setting up the table, I have found that the dry then wet weather still cause some concern with the smooth running of the quilter. I am learning to deal with its needle jumps. After I have the basics firmly established I will be able to experiment with different weights of wadding and different designs.
While staying with my Mother (in her nineties) a couple of years ago, we made several pineapple quilts. Mom wanted to learn the simple pineapple pattern developed by Karin Hellaby. The basic pattern is available here. We found that it was a great pattern that worked for an assembly line strategy where both of us could work on the quilt construction together. Mom did the sewing and cutting of the squares while I did the cutting of the squares, trimming, and marked the cutting lines. Once we got the technique right and the process, we started experimenting with different sized squares. Our early experimentation ended up as this king size quilt.  I needed to border some of the squares (the gold fabric) so that they would all fit together. The edging of the quilt then became triangles around the border.  Click on this link to see a YouTube video on 'Sew Simple Pineapple' 
I started  quilting of this large area when I first got the machine. The centre blocks are all quilted with different designs that came loaded with the ProStitcher computer software. (I have not been brave enough to do freehand long arm quilting.) Well, yes, I have had a couple of goes, but they weren't very smooth. (I have very tense shoulders and need to learn to relax them.)
I found a website 'my creative stitches' that sells patterns for the long arm quilters. There is quite an array of these. Christy Dillon creates these patterns and digitizes them so that I can increase the selection of patterns which my machine will do (by itself!). Christy offers Free patterns  so that quilters can check that they work on their machine before purchasing others. Just by trying this sample I have learned more about using the options available on the LongArm. Thanks Christy.